I couldn't have planned this if I tried. It was a 1 in a million shot as the plane photo bombed the moon. As it was, I guess, it was a 5-in-a-million shot as I was shooting bracketed shots, taking a set of five.
I was out having a little fun, shooting the June 27, 2018 Strawberry moon and Saturn in opposition. I didn't even see the plane transiting the moon as I was shooting. It wasn't until looking at the camera screen shortly thereafter that I saw it. At first I thought it was a cloud or a bug or something.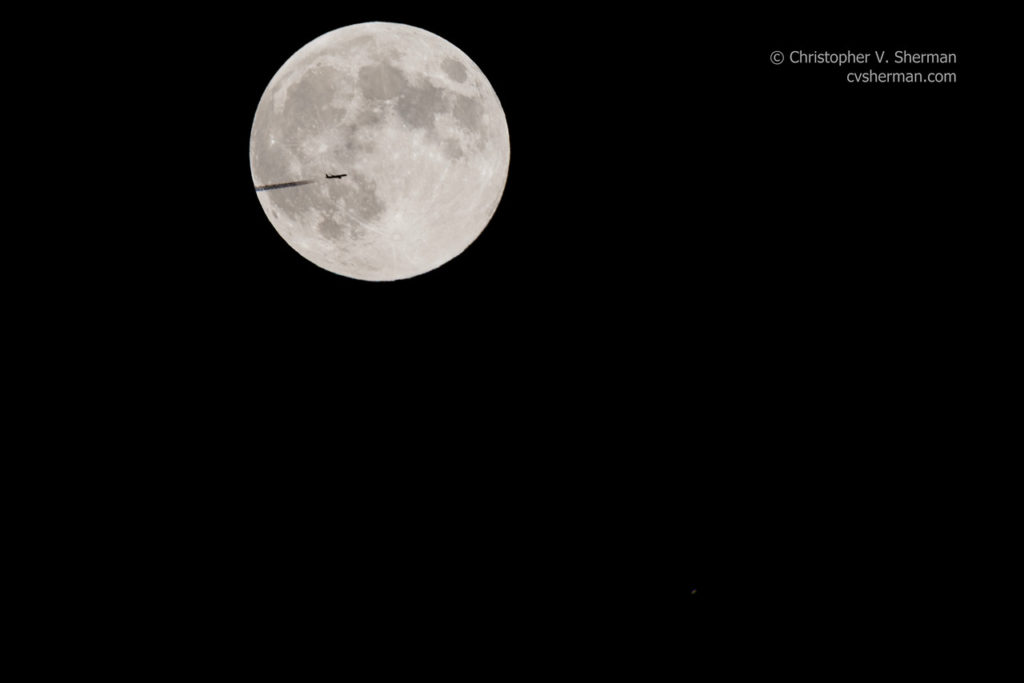 I shot a bracketed set of 5 images with the top image below being the best exposure of the plane and moon. This was shot about 50 minutes after sunset. I was in the Wisconsin North Woods currently so I had to wait until the moon rose above the trees for clear line of sight.
Below are the bracket shots, edited in Lightroom to equal the exposure levels and aligned in Photoshop (I was shooting hand held).
Zoom in on any photo to see Saturn and it's rings in the lower right. Shot with Nikon D850 and Tamron 150-600mm. f/6.3. 200 ISO. The brackets in order below are 1/200, 1/160, 1/125, 1/100 and 1/80 sec. Exif data were edited due to the stacking and aligning process.